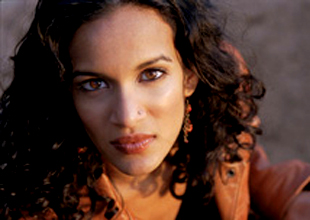 Dear Mumbai
By Anoushka Shankar
(A Kavita Media Presentation. Please email comments here.
You can also contact Kavita with your feedback, by dialing 678-720-1260. Selected comments will be broadcast on our webcast.)
My old friend. I wish I could hug you as you go through this horrible time. You've experienced so much in your life, and it's just so sad for you, of all cities, to be tested and torn yet again in this manner.
I remember when I met you for the first time. Staying with my mother in the beautiful old wing of the Taj as a child. I remember my fear of the big Sikh guards with their height and booming voices and their big moustaches. How well I behaved when they were near! I remember walking along the water's edge and smelling the fish and sea salt in the air. I've loved you as long as I can remember. But I won't romanticise my loss. The Taj was a place of history, heritage, and culture, and its violation is a tragedy. But so were the attacks on the train station and hospital, which affected people of different classes all across the city. Mumbai, and India as a whole, were attacked in those few days, in the most senseless, bewildering way.
When I heard of your riots as a teenager, I feared for you, and I feared for your people. I even became a little afraid of you, and of what you showed about my country. We all balance on such a fine knife-edge, as neighbours and relatives and friends. But how quickly and easily we become Hindu and Muslim above all else. It terrified me then, and terrifies me still. I'm so afraid what has happened now will open delicately healed wounds again. Never mind that the single captured terrorist is a Muslim or a Pakistani (though I am not saying, never mind Pakistan's responsibility in this situation). He and his compatriots killed indiscriminately. They killed people of every religion and class, with the desire to simply inflict as much damage and cause as much fear as possible. I'm so afraid that will be forgotten as people blur the lines between Islam and Islamic Fundamentalism, and as our media and politicians focus on the evils lurking in our neighbouring country.
Mumbai, how you made me proud during the floods! You showed a character at the time that would make any country stand tall. It was tragic that you had to be tested in that manner, but it was so moving to see how you pulled through. And yet again, today, it's the people of your city that have come across as heroes.
Mumbai, you deserve better than this. And your people are standing up, united, to demand it for you. People have risen up in protest of what happened and are demanding better for you and themselves. It's about time we all got that, from our leaders, our government, and our country.
But I hope we don't get bullied into dealing with this attack the same way the States did. I hope we don't get too brainwashed by the constant comparisons, or by people dubbing this 'India's 9/11'. I find that so bizarre. This is our tragedy, our attack, and not the first terrorist attack to happen here. So why must we give it an American name, so that they can own and navigate this too?
I was in the States for their 9/11. I was in San Diego, woken at home to watch the second building fall. I was caught in the same panic as everyone else, trying to speak to my sister and other loved ones through the jammed phone lines. I was to fly that day, and while our first concert got cancelled, my group and I were on tour by the thirteenth. As a group of four Indians, one Mexican, and a Japanese, we were subjected to harsh and sometimes humiliating extra security nearly every other day, whenever we had to fly. Getting angry with the security guard who smirked as he rifled through my underwear and raised his eyebrows at me would have meant I was being a menace and a potential terrorist. It was a horrible time in which I saw racial tensions skyrocket. I saw the nervousness on people's faces around my bearded brown-skinned friends. A neighbour of mine came out with a gun when my tabla player's car got stuck in a ditch outside his house one night. And Islam practically became a dirty word.
Will this attack, which hit people across all divides of nationality, religion and 'class', affect people the same way? Mumbai, can you survive yet another division that tears through your people? Or will this attack be used to unify Indians against a common enemy? Mumbai, my dear, do you even want to be the reason for us and our neighbours being further wrenched apart, possibly dragging this entire region
down with us?
I was on tour in London in 2005 when the bombings happened on the Tube and on the bus. Again, I spent hours trying to reach loved ones, and found that while three or four people I knew had been on trains at the time, everyone was safe. In Tony Blair's first few speeches he urged people not to look at each other with suspicion, and cautioned citizens against blaming one community over another. He filled me with relief when he said that because I was so afraid after my experiences in the States. I always held London in better regard when it comes to multiculturalism, and didn't want that to be affected.
But London, too, has changed. Simmering frustrations against immigrants have come to the surface. Frightening new laws have been passed in the name of security, severely inhibiting the rights of people. As in the States, the terror attacks gave people in power new freedoms to exercise that power in ways that go against the basic rights of citizens.
Mumbai, will you be affected the same way as those cities? Will what happened to you be used as a step in a game of chess, abused in a strategy of war between communities or countries? Already, I see a National Investigation Agency has been formed in response to your terror attacks, which will be governed by rules normally only applicable in times of war, giving them unprecedented autonomy. They will be able to detain suspects for six months with pressing any charges, and their actions won't be subject to scrutiny by law. When will we wake from this nightmare?
I don't want to see a repeat of what's happened everywhere else. From three days after the attacks, I found it difficult to watch the news. Not just because of the idiotic, insensitive reporting or the glorification of the attacks as if we were watching an action movie. But because of the same usage of fear tactics on people as I saw in other countries. I don't want to see 'war', 'terror' and 'attack' flashed on my screen every minute, I don't want my brain constantly bombarded with new threats and near-attacks. I don't want people incited into a harsher response than necessary. I don't want us to all live in fear and have that fear preyed upon in the name of our safety. I don't want us all to get sucked into this sick game.
Dear Mumbai, be strong. I know you're resilient, and that is what politicians have gone on saying these last few weeks. But we shouldn't have to know how resilient you are; you shouldn't have to prove yourself time and again. We should honour you, and ourselves, better than that.
With love,
Anoushka
Disclaimer: The views and opinions expressed in these columns are solely those of the writers and do not necessarily represent those of the editor/publisher.
New tour dates announced
A new Sitar Concerto by

Ravi Shankar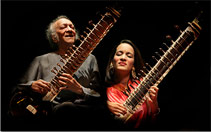 In January Anoushka will premiere a new Concerto written by her father, the great maestro Ravi Shankar. The "Concerto #3 for Anoushka and Orchestra" follows two sitar concertos Mr Shankar wrote decades ago, and is the first he has written for anyone other than himself. Anoushka will perform this historic work with the
Orpheus Chamber Orchestra
at
Carnegie Hall
in New York City and in several other American cities.
Tickets can be purchased at
orpheusnyc.com
2009 Concert Tour Schedule
with the Orpheus Chamber Orchestra

DATE
CITY
PRESENTER / VENUE
TIME
Jan. 25, 2009
Evanston IL
Pick-Staiger Hall,

Northwestern University

7:30pm
BUY TIX...
Jan. 29, 2009
Easton, PA

Williams Center for the Arts

8:00pm
Jan. 30, 2009
South Orange, New Jersey
SOPAC
8:00pm
BUY TIX...
Jan. 31, 2009
New York, New York
Carnegie Hall (Live WNYC Radio Broadcast)
8:00pm
BUY TIX...
---
Archives:
All Material © Copyright KavitaChhibber.com and respective authors/photographers.