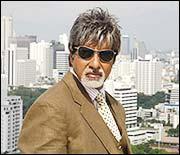 "Ek Ajnabee" - This Stranger is Strangely Familiar.
A Movie Review by Ajit Acharya
** Fair warning: The following review may contain plot spoilers. **
Amitabh dares you to guess what he's looking at in "Ek Ajnabee"
I was standing in the lobby of the movie theater with my parents and my grandmother late last year wondering which flick to take them to. We wanted some light masala entertainment to pass the afternoon. The poster for "Ek Ajnabee" loomed overhead with Amitabh Bachchan's sunglass-wrapped visage beckoning us. "Four for 'Ek Ajnabee'", I said naively to the guy at the counter.
We took our seats and the theater darkened. We tried to ignore the noisy chomping of snacks and slurping of drinks behind us. (I think three or four Uncles decided to take advantage of the "free refills" policy on popcorn and soda. They must have refilled at least twice before the lights went out... but I digress...) Before "Ek Ajnabee" started, we were greeted by a promo advertisement featuring Mr. Bachchan instructing us to "stop video piracy... watch this movie on the theater screen." Oh the irony... the movie that followed starring the Big B probably broke at least 20 rules of international copyright itself.
From the opening title card, which quotes from statistics regarding kidnapping, I knew that it was going to be a loooong afternoon. I'd seen this before! Sorry my friends, but "Ek Ajnabee" is not just "inspired by" Tony Scott's "Man on Fire" starring Denzel Washington. It is essentially a plotpoint-by-plotpoint carbon copy (...er, excuse me, "remake") of that film with Amitabh starring as Denzel, but dressed oddly like Tom Cruise from "Collateral". Apoorva Lakhia, the writer and director, has clearly seen Tony Scott's movie and decided he must remake it with a few minor twists and a Bollywood song or two.
Let's review the basic plot, shall we? Retired army commando Col. Suryaveer Singh (Bachchan) is hired to protect a little girl named Anamika (Rucha Vaidya) from Bangkok kidnappers by her parents, wealthy businessman Ravi Rathore (Vikram Chatwal) and his wife Nikasha (Perizaad Zorabian). Suryaveer nurses some alcoholic depression because of past failures and atrocities committed with his army buddy Shekhar (Arjun Rampal in "gangsta mode" with nicely painted on tattoos). Anamika and Suryaveer share an unlikely friendship, which gives Suryaveer's life new meaning outside of a Johnny Walker bottle. When Anamika is later kidnapped and feared to be killed, Suryaveer exacts revenge on the perpetrators using his tenacious will, his military expertise and, yes, his pair of those sleek sunglasses. Bad guys beware... there's "a stranger" in town.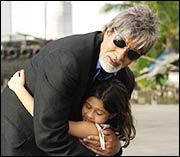 Does any of this ring a bell? Well, there are a few differences from "Man on Fire". Let's see... the dialogues were spoken in Hindi, and the story was set in Thailand. Christopher Walken's character from the original is replaced by Mr. Rampal and his biceps. I'm not sure if these are good reasons to make the SAME freaking movie. Yeah, the relationship between Big B and the little girl was cute and sweet... but I'd seen it before when it was Denzel and Dakota Fanning. Denzel was also a guilt-laden boozer, and he also happened to help the young girl under his charge with her swimming problems. I'm quite surprised that Brian Helgeland (screenwriter for "Man on Fire") doesn't get a co-writing credit for this flick. Even the vendetta scenarios were copied using the frenetic editing style that Tony Scott has trademarked.
Bachchan and Vaidya: "Careful kid, don't wrinkle the suit."
On the plus side is a heartfelt performance by Amitabh Bachchan. Sure, it's nice to see Bachchan revert back to the "angry young man" avatar of his past (even if the young man is now almost eligible for Social Security), but the parts of the film that truly pack a punch are the tender scenes between Bachchan and young Vaidya. Unfortunately, the comparitors for both performances (Denzel and Dakota Fanning) were pitch perfect themselves in many scenes that they improvised for "Man on Fire". Not to take anything away from Bachchan and Vaidya, but it's hard to improve on perfection. It's also hard for me to review these carbon-copy movies at times because the frustration of seeing non-original material taints my perception of the film. You might enjoy this movie if you haven't seen Denzel scorch the screen in "Man on Fire". "Revenge," remarks Denzel's character, "is a dish best served cold." Consequently, if you've already seen "Man on Fire", "Ek Ajnabee" tastes like yesterday's leftovers. Tony Scott's movie was a well-told tale of redemption and revenge, anchored by a subtle and nuanced Washington performance. It does not end the same way as "Ek Ajnabee".
Yes, there are cameos in "Ek Ajnabee". Some of my friends think these alone could be worth the price of admission (- You know who you are!!) Are these cameos essential to the story? Nope. They seem to exist only to give the audience a token clap. We all had fun pointing to the screen and saying "Hey, look that's blah blah blah." Worth the price of admission? I think not. However, I'm sure you'd get a different answer from the Uncles behind me who raided the popcorn machine dry by intermission. They certainly got their money's worth.
Ajit Acharya is an aspiring screenwriter with a lifelong passion for provocative and artistic films.
Disclaimer: The views and opinions expressed in these columns are solely those of the writers and do not necessarily represent those of the editor/publisher.
---
Archives:
All Material © Copyright Kavita Chhibber and respective authors.
E-mail this article