---
Bobby Fischer (1944-2008)
An obituary on the man who changed chess forever
By Gautam Narula
Robert James "Bobby" Fischer could not be described as a having a "normal" childhood. Born to The son of Regina Wender, a Jewish Pole, and Han-Gerardht Fischer, a German scientist (there has been, some debate whether Fischer's father was actually Wender's long time friend Paul Nemenyi). Wender and Fischer were married in 1933 in Moscow, Russia. Interestingly enough, Wender divorced Fischer in 1945 in a town named Moscow. According to Edmonds and Eidinow, her incident was locally dubbed as "Married in Moscow, divorced in Moscow". After the divorce, which occurred when Bobby was an infant, the family, which included his older sister Joan, moved to Arizona, where Wender was an elementary school teacher. In 1949, they moved to Brooklyn, New York. It was very fortunate that this move occurred; New York City is the center of U.S. chess- The United States Chess Federation had its headquarters there for quite sometime, many prominent chess players, both past and present, lived in New York, and Washington Square Park in Manhattan is known for its homeless chess hustlers.
Bobby was first introduced to chess by his older sister, Joan. To entertain her younger brother, she had brought a variety of games, including chess. Soon, he was able to defeat his sister with ease. He started taking chess seriously at age 7, even receiving chess instruction. Later he became a regular at the Manhattan chess club, where some of the U.S.'s finest players played. In 1956, he became the youngest person to ever win the U.S. junior championship. A game he played with future International Master Donald Byrne was later dubbed "the game of the century". He became a National Master at age 12, a record at the time (which has since been broken). However, his biggest achievement in the United States, and one that, despite the greater availability of coaches, books, and computers for analysis was his 1958 victory at the U.S. Championship. He became the youngest U.S. champion ever, at the age of 14. This spectacular performance garnered Fischer the title of International Master, which at the time was also a world record.
At approximately age 16, Fischer astonished the world by setting a new world record for youngest Grandmaster (a record which has been broken) and became the youngest person to ever qualify for the Candidates matches (the winner of which would become the challenger to the World Champion). At the Candidates matches, Fischer was very distrusting of the Soviet chess establishment claiming (which history would prove actually had some factual basis) that the Soviets prearranged draws with each other so as not to hurt a Soviet's chances to become challenger. Fischer, upset with this system, went into semi-retirement and started becoming religiously involved for the first time. He started to listen to Radio Ministers of the World Wide Church of God, and became so religiously involved that he gave a significant amount of World Championship money to that Church. After a series of scandals, Fischer later denounced the Church.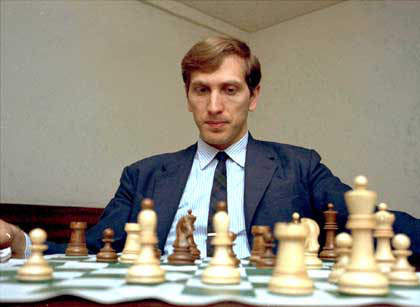 In order to qualify for the World Championship from the U.S., one had to be one of the top three finishers in the U.S. championship. Fischer refused to play in it because he didn't like the format and the prize fund; it was through the work of his "guardian angel" of sorts, Colonel Ed Edmondson, and the generosity of GM Pal Benko, one of the three qualifiers, that Fischer got a chance to participate in the World Championship cycle. Benko, realizing that Fischer was the U.S.'s best chance to challenge the Soviet hegemony that had existed for almost three decades, had given up his spot to Fischer. Fischer played in the 1970 Interzonal tournament (the winners of which would proceed to the Candidates) where he had a remarkable tournament, winning his last 7 games in a row, a mighty feat against the world's best. But his 1971 Candidates matches was legendary. He crushed veteran GM Mark Taiminov 6-0. He followed suit with a victory of GM Bent Larsen with another 6-0 win. He had had a 20 game winning streak against the world finest- Edmonds and Eidonow compare it to a tennis player winning Wimbleton without losing a single game. He finally crushed former World Champion Tigran Petrosian 6.5 to 2.5. He was now the World Chess Championship challenger.
The 1972 World Chess Championship match with Boris Spassky (with whom, unlike most Russians, Fisher was on affable terms with) was to take place in Iceland. During the paranoia of the Cold War, the match was seen as a great ideological battle between the free, capitalist U.S.A, and the Communist Dictatorship of the U.S.S.R. Chess was important for the Soviets, and their dominance in it was one of their largest pro-Communist sources of propaganda.
The format of the World Chess Championship as follows: It was first to reach 12.5 points, with a draw counting as half a point and a win counting as a full point. In the event of a tie, the prize would be split, and the Champion (Spassky) would retain the title. Game 1 began with Fischer allowing his Bishop to get trapped behind a wall of pawns in what could only be called a beginners trap. After this game, which should've been drawn, Grandmasters around the world were puzzled. Why did the great American fall for such a simple trap?
Game two was another interesting one. Despite having agreed to allowing TV cameras before, Fischer refused to play unless they were removed, claiming that they made too much noise, an absurd claim considering that the later games of the match were played in a back room with much more noise than the playing hall, and that a decibel meter confirmed that the TV cameras did not make any noise. Fischer refused to show up for the game, and received a forfeit loss. After an early deficit, one due to a forfeit for not showing up on time, things looked lost for Fischer. However, he came back with three wins in a row, followed by a draw, and another win. Spassky was now trailing 5-3, after a 2-0 lead. It is interesting to note that before this match, Spassky and Fischer had played each other several times, and Spassky had won or drawn every one of those games.
Game 9 ended in a draw, followed by a win for Fischer in Game 10 and a win for Spassky in game 11. Game 12 was a draw, and Fischer won game 13. Game 14 and 15 were also draws. Meanwhile, a lawsuit from Chester Fox, the man who had secured the TV rights and had installed the cameras, was underway as the cameras had been removed- at Fischer's demands- for most of the games. Game 16 and 17 were also draws, as was game 18. Game 19 was a Spassky win, and game 20 was another draw. Fischer now had 11.5 points to Spassky's 8.5. In the final game, Fischer won, clinching the title and becoming the first and only American World Chess Champion.
During the match there were many accusations of Fischer trying to use psychological means to distract Spassky. To be sure, the constant complaints about the lighting, cameras, chess board (the squares had too much contrast in color) the table (it was too tall) no doubt hurt Spassky psychologically, and I share the opinion with many observers that he was far to lenient concerning Fischer's behavior. For example, Fischer arrived at the match quite late, and Spassky could've easily refused to play game and kept his reputation (no one would blame him for leaving) and his title intact.
During the match, many of Fischer's oddities surfaced- in addition to the many things concerning the match itself, Fischer also wanted a different hotel room, claiming that his room was distracting because it had too nice of a view.
After the match, chess became a worldwide phenomenon, particularly in the United States, where chess players had previously been forced into a life of poverty and hustling at Washington Square Park. Now, parents wanted their children to play chess, and there was a large demand for chess books and coaches. Chess could actually earn one a living, something completely unheard of before.
Then came 1975; it was time for the next World Chess Championship, between Fischer and rising Soviet start Antaloli (Anatoly) Karpov. People were looking forward to another crushing Fischer win, another blow to the Soviet Chess Machine. Sadly for the U.S. and the entire world, it never came to be. After FIDE (the World Chess Federation) didn't accept all of his conditions for the Champion ship, Fischer sent the following message to Fide President Max Euwe on June 27, 1974:
"As I made clear in my telegram to the FIDE delegates, the match conditions I proposed were non-negotiable. Mr. Cramer informs me that the rules of the winner being the first player to win ten games, draws not counting, unlimited number of games and if nine wins to nine match is drawn with champion regaining title and prize fund split equally were rejected by the FIDE delegates. By so doing FIDE has decided against my participating in the 1975 world chess championship. I therefore resign my FIDE world chess champion title. Sincerely, Bobby Fischer."
Fischer then went into hiding, surfacing only occasionally to play chess, though he still studied in-between that time. He was briefly arrested (though later released as he was the wrong person) in 1981, and subsequently wrote the pamphlet "I was tortured in the Pasadena Jailhouse!" In 1992, he played a rematch with Boris Spassky in what was then Yugoslavia. This violated UN sanctions at the time and the U.S. government issued a warrant for Fischer's arrest, though some question the validity of the warrant. As a result of this, Fischer was to never return to the United States.
In 1988, Fischer patented a new type of chess clock which had a time increment added to a players time after every move. In 1996, Fischer introduced Fischer Random Chess, also known as Chess 960, which followed the same rules of chess with the exception that the opening position was randomly chosen out of 960 possible positions. Fischer created this because he felt that regular chess had become stale and rewarded those who memorized openings.
Fischer made many controversial remarks during his life, especially against the Jews (ironic considering his mother was a Jew), denouncing the Holocaust, and against the United States. When he was interviewed on a Radio program in the Philippines soon after September 11th, he expressed wished for a coup in the U.S., and that the new government would execute Jews and destroy synagogues. He also said the U.S., along with Israel, had been abusing the Palestinians, and when informed of the September 11th attacks said, "This is all wonderful news".
Fischer lived in Japan for sometime, and was close to be deported to the U.S. after he used a revoked passport for an international flight. However, he was given asylum in Iceland, where he lived until his death on January 17th, 2008. He had kidney problems, and didn't believe in using modern Western medicine to attempt to cure or prolong his life. What's interesting about his death is the fact that he died in a year ending with the number 8, the same number of rows and columns on a chess board. Even more interesting is the fact that he died at the age of 64, the number of squares on a chess board.
Fischer's has left a legacy that will never be forgotten. Though chess suffered a bust after Fischer became a recluse, Grandmasters and other chess players never returned to the pre-Fischer days of poverty and homelessness. Fischer also raised an entire generation of chess players, from regular to club players to U.S. Champions. He made important contributions to chess opening theory, including the King's Gambit, Fischer Defense (Diagram 1), the Nimzo-Indian Defense, Fischer Variation (Diagram 2), the White side of the Sicilian, now called the Fischer-Sozin attack (Diagram 3), the Ruy Lopez, and made important contributions to the King's Indian Defense, the Grunfeld Defense, and the Nadjorf variation of the Sicilian Defense, especially the Poisoned Pawn Variation. Clearly, Fischer was a brilliant man, who, either from his genius or some mental illness, lived a difficult life. Rest in Peace.
Diagram 1 Fischer Defense in the King's Gambit Diagram 2 Fischer Variation in the Nimzo-Indian
Diagram 3 The Fischer-Sauzer Attack in the Sicilian
For More Information
If you'd like to learn more about Fischer, I highly recommend the book Bobby Fischer Goes to War by Edmonds and Eidinow, as well as Wikipedia. Both have a good amount of information on Fischer and were instrumental in writing this article.
Gautam Narula, 14 is a 9th grader at a High School in Georgia
By Pranavi Narula
It's Valentine's Day
You are all alone with no one to hold
Tears run down your face, you heart becomes cold
You can't stop thinking about him and what you had
The truth is, you're not the only one who is sad.
He is thinking about you
And doesn't know what to do
Will you give him another chance?
Will you save him the last dance?
As you continue to think
He continues to sink
as he gets into his car
Your house isn't that far
He knocks on your door
Hoping your not that sore
He sees you face
Very red, but filled with grace
He asks for your hand
Brushes off the sand
Drops a blue box
Open the lock
A diamond ring for his beloved
Nodding your head, yes, you said
The tears are drying
No more crying
You're getting married
Forever until you're buried
Never again will you fight
Especially not tonight
Share your love today
It's Valentine's Day
Pranavi Narula is a 7th grader at Webb Bridge Middle school.
Disclaimer: The views and opinions expressed in these columns are solely those of the writers and do not necessarily represent those of the editor/publisher.
---
Archives:
All Material © Copyright Kavita Chhibber and respective authors